The year 2017 proved NewAer continues to innovate and to remix proximity technology by placing Bluetooth beacons on people rather than the store shelves that they were envisioned for.
For SXSW we put Bluvision beacons on guests at SXSW to create what Techcrunch called Minority Report, but we felt was more like "Six degrees of separation."  Attendees within the lounge could quickly append their Facebook "likes and profile" to a BLE beacon, which would create useful interactions around the event to show how everyone was connected in the real world.  But this was more than a demo, the interaction and screens can be setup by you today using our NewAer Kiosk application!
The best part about this interaction was that it was heads-up.  Many of the breakout SXSW apps in the past have required users to look down at devices, and we wanted to change that to keep people looking up.  The owners of Bluevision and HID, ASSA ABLOY said in their newsletter that our "identity software is the equivalent of a web cookie" in the real world.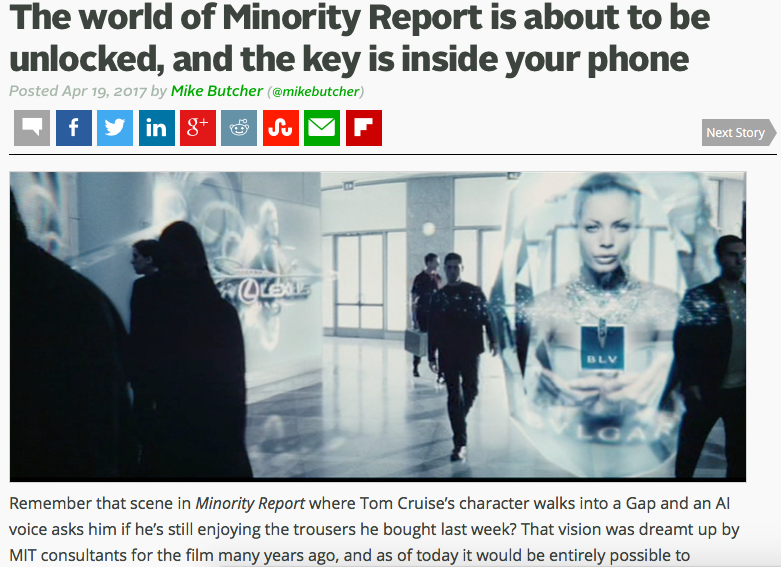 You can read about our story on TechCrunch here: NewAer unlocks Minority Report
Our Beacon deployment was covered within the ASSA ABLOY Open newsletter here: NewAer in ASSA ABLOY Open 1703 Americas EN low
Our innovation continued at CES with news that we will be able to share in the coming weeks.  In the mean time, check out our video from the SXSW experience sponsored by Walmart in the Capital Factory!
Here's to an action packed 2018!  If you want to download our SDK to dig deeper into our framework of device detection and communication, just click here!