We are in beautiful Whistler Canada this week at the GROW conference, an offshoot from Debbie Landa's Under the Radar conferences. She brought out hundreds of people from the US tech scene, retailers and Canada's best startups from across the Great White North.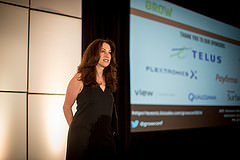 We spoke on a panel focusing on what context-aware computing means for consumer experiences and privacy with Mikael of EasilyDo and Robert Scoble from Rackspace. The debate was around privacy and the relationship that we have with websites or apps. An example that I used was Google Now, an application built into Android the more data goes into something, the better it can feed knowledge to you because of its machine learning and therefore awareness.
Robert enjoyed the fact that when he went to Coachella his Facebook advertisements, and friend's posts and photos began popping up on his feed. Whether their application was reading his current GPS as a data set that Facebook could leverage, or their algorithms were looking at his own published and tagged stories or photos didn't matter to him. The fact that the context was known and the presentation of data was adjusted for his physical space was the important outcome.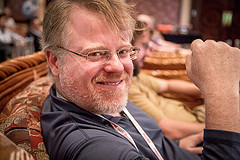 Increasingly wearables too give their unique identifiers out in the air through Bluetooth Low Energy, and this is something that our NewAer SDK can leverage as part of our machine-to-machine identifier. While the user identity of the person wearing the device is unknown to us, partners who leverage our platform can let their customers tie this identity to a user, for example to an airline database to pull your flight information and be able to present helpful messages upon digital signage as we showed during the American Airlines hackathon.
With any of these scenarios, a trust relationship occurs between the users and the apps or websites where they have a relationship. Uploading photos or posting stories to Facebook gives social currency and connects people together. Using an application for your favorite airline can bring efficiencies such as mobile boarding passes and updated real-time gate information. Proximity data is a next generation contextual "meta layer" that can tie even richer interactions into your world than what GPS can offer due to its lack of precision and power consumption.
Just as cookies on the web help with context of what is in your shopping cart, we aim to bring the positive effects of "cookies to the real world" with proximity radio data from our all format, all beaconing radio proximity platform SDK.
Finally, our patent strategy as founders of the proximity triggering space progresses with our second patent grant in August! We now add US Patent No. 8,805,352 "Determining virtual location based upon scanned wireless signals" to our IP roster. This is a proximity based matching engine and trigger that can be applied to updating applications or digital signs based upon a unique fingerprint of devices inside of a space. Our upcoming Unilever application and the follow-me video solution that we showed at the Cable Labs event are built upon this patent.
You can preview our solution for follow-me video from our YouTube channel here: Follow-Me Video at Cable Labs 2014 Tech Showcase.
The NewAer technology is peer-to-peer along with iBeacon in reverse, and we are proud to have built it before Apple's entry into the space.